Post cure heat room
Product Information
Application: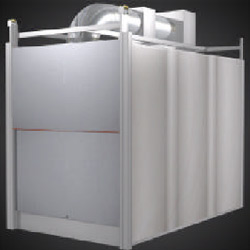 The Post cure heat room is designed to accelerate the
complete polymerization (curing) of solid surface panels prior to
finishing. Utilizing a Post cure heat room helps to create a much
stronger and durable cast product.
Description:
Post cure heat rooms feature heavy duty sheet metal
shells with 2″ thick thermal insulation, heavy duty steel frame, 3
phase electric heater, 3 phase 50/60 hertz recirculating blower
with ducting, counter balanced manually operated door
assemblies, and up to eight levels of 11 gauge galvanized steel
wheel way assemblies with zinc plated steel skate wheel
bearings. The Post cure heat room is available in a standard
length of 13 feet with one to eight levels.
Product Range:
0831124 CURE ROOM, 2W, 8L, DOORS ON 1 END 0830979 Post Cure Room Blower Complete
08311245 CURE ROOM, 2W, 8L, DOORS ON 2 END 0830968 Wheel way assembly with steel wheels, 13'
0831191 CURE ROOM, 2W, 5L, DOORS ON 1 END 0830969 Wheel way channel with steel wheels, 13'
0831035L Remote Bulb Thermostat With LEDS 110039 Standard steel wheel way wheel with nut and bolt
Other combinations of levels and doors are available upon request.
Equipment Requirements:
Post cure rooms should be hardwired to an appropriate circuit by a qualified electrician to meet
your local electrical codes. Additional controls may be necessary to meet your local regulations. Any
additional requirements needed to deem this equipment operational will be obtained by buyer at buyers
expense.
Specifications:
Frame:
- Height: 32″ (to top of posts), 153″ (to top of heater)
- Width: 98″ outside, 84″ inside
- Length: 156" (15 ft.)
Wheel way, left, right, and middle:
- Width: 20 1/8″ (wheel center to wheel center).
- Height: 28″ (bottom level)
Electrical
- Heater
21kw (72,000btu) 230/460V, 3?, 60hz @ 52/26A
Control: 24v remote bulb thermostat.
- Recirculating Blower
230/460V, 3?, 60hz @ 9.6/4.8A
Capacity: 6600cfm @ 1/8″ static pressure.